Picture a collection of a thousand recipes. What are you imagining? Probably a large stack of oversized and clunky cookbooks, right? Now imagine all these recipes (plus many more) stored and made easily accessible on your mobile phone. Looking more user-friendly?
Recipe apps provide everyone from beginners to master chefs with step by step instructions for thousands of meal ideas; all conveniently organised and presented in one place. We took a look at the most popular recipe apps in France, the home of the best food in the world according to The Telegraph. So which apps wet the French appetite?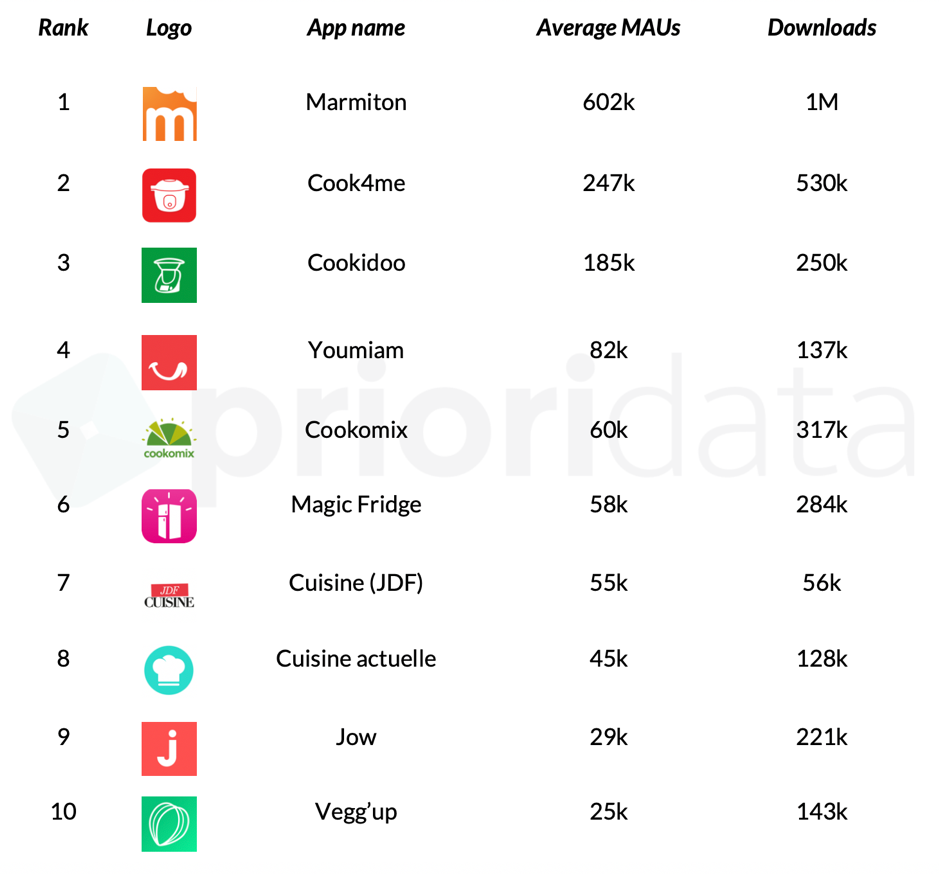 We used Airnow Data's app and market intelligence tools to identify and compare France's biggest recipe apps. During our analysis we were able to separate the apps into 3 distinct groups. First, recipe apps from traditional media, such as health, food and lifestyle magazines. Second, recipe apps dedicated to one device, for example multi cookers. Lastly, independent apps looking to innovate the field.
We ranked the apps according to their MAUs. The data used was collected from June 2018 to June 2019. We also added total downloads as a measure of growth over the same time period. The results are displayed in the table below.
Marmiton
The top spot is taken by Marmiton in dominant fashion with over 600,000 monthly active users. This accounts for over 40% of all MAUs accumulated by these 10 apps and more than double that of the runner up, Cook4me (247k). Marmiton also leads the charge in downloads and is the only app to reach over 1 million downloads in one year; doubling their next closest competitors' figures once again. The app only continues to grow, reaching 750k MAUs in June 2019. However, this dominance is not surprising considering the media giant behind it.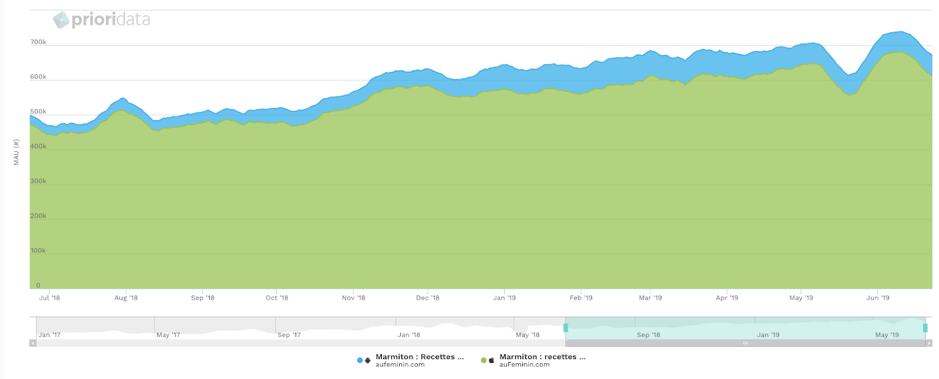 Marmiton, a subsidiary of aufeminin, one of France's leading publishers for women's content, describes itself as " France's leading digital brand focusing on food and cooking". Originating as a website, Marmiton has expanded by launching its own physical magazine, branching off into other countries and of course entering the app market.
Marmiton offers over 70,000 recipes and has more than 7 million unique monthly visitors to their website. Such a strong library of recipes and large user base translates well into the app market and virtually guarantees the app's success.
The app's defining feature is its robust search feature allowing you to find specific recipes, the current popular ones and even search recipes by ingredients; a useful feature for users with allergies, specific preferences or those just looking to empty their fridge. Additionally, the recipes are easy to follow, often containing videos with the step by step instructions.
Other traditional media, mainly women's lifestyle and cooking magazines, have developed their own apps. The 2 most notable apps are Cuisine by Le Journal de Femmes, and Cuisine Actuelle, the cooking branch of Femme Actuelle. These apps achieve MAU and download figures that are relatively unimpressive, with both around 50k MAUs and Cuisine (JDF) managing the lowest downloads of all apps compared.
The inferior performance of Cuisine Actuelle compared to Marmiton could be attributed to the lower viewership from their website, which results in fewer MAUs. For Cuisine by JDF, the most plausible explanation is the cooking section is only a small part of its magazine, meaning only a small portion of its readership are interested in a recipe-focused app.
The multicooker apps
The only other apps to average over 100k MAUs are both apps for one specific multicooker: the Cook4me app for the Cook4me by Tefal and Cookidoo for the Thermomix by Vorwerk. These apps rank 2nd and 3rd in the category with Cook4me the clear leader between the multicooker apps.
However, Cookomix (5th) is also an app built to work with the Thermomix. It is a community driven app, specific to France. Users can submit, share, comment and rate other users' recipes for the Thermomix. Recipes can also be directly displayed on the Thermomix. When combining both Thermomix apps, the MAUs and downloads for the last year exceed Cook4me's app.
Cook4me's app offers only a small amount of recipes, around 50. These recipes however are created by professional chefs and custom made for the machine. Additionally, the recipes have detailed step by step instructions, including videos, and the app is able to create specific shopping lists for the recipe. Another defining feature of the app is monitoring your cooking progress from your device. This feature is probably a driving force of the app's popularity.
Cookidoo, the official app for the Thermomix, also offers specialised recipes for their machine, with over 40,000 thousand recipes. The app, like Cook4me, offers detailed instructions for each recipe. Thermomix's app differentiates itself through a sophisticated search tool, where you can filter recipes by preparation time, ingredients and category. They also offer a planning tool, where users can save recipes in lists and schedule meals in a calendar to ensure a more balanced diet.
Jow
The last category of recipe apps are independent apps, not bound to large traditional media outlets or one single device. They attract the consumer with novel features or by focusing on certain types of food.
The front runner of these apps is Jow. Yes, the app with only 29k MAUs. However, this figure is misleading as it is calculated using statistics from the last 12 months. Studying the graph above though, Jow only began to see its phenomenal growth from the start of in 2019. Therefore, the number of MAUs the app had in the first 6 months of this calculation are significantly lower than the numbers they are achieving now. In July 2018 Jow didn't even have 1000 users but now, in June 2019, the app has peaked with over 125,000 monthly active users.
Jow's rise prominence is also seen through its consistent status in Top 10 apps in the Food & Health category in France for the last 4 months. Only 2 recipe apps have managed to constantly stay in the top 10 (the other being Marmiton).
Jow combines recipes and shopping. The user just needs to choose a delivery service, number of people, dietary preferences (such as halal or vegan), kitchen equipment and number of meals wanted. The app then auto generates matching recipes for you. Of course you can swap any recipe you don't like and browse their catalog for another one. Lastly, it auto-generates a shopping list from the recipe selected and allows in-app purchasing for grocery delivery to your door.
The app also allows you to save your favourite recipes and gives detailed instructions, including videos, for each recipe.
Other notable apps are Vegg'up and Magic Fridge. Vegg'up focuses on Vegan food and recipes. Their app is oriented towards vegans and those who want to reduce their meat intake. Magic Fridge, on the other hand, focuses on waste reduction; a significant issue in France over the last year. The app generates recipes using the contents remaining in your fridge so as not to waste any food and also save money. It also achieves the most downloads of all independent recipe apps.