Once again we examine the numbers behind another phenomenal period of growth in mobile gaming. With the market growing nearly 4% and net revenue crossing the $9bn threshold for the first time, we delve into the titles, countries and trends behind the headlines.
In the latest edition of our regular deep dive report into the mobile games sector, we have published our Q3 analysis.
Download the Mobile Games in Q3 market report:
The report is produced in collaboration with IHS Markit Technology - the leading source of information, insight and analytics in critical areas that shape the technology ecosystem. Check out reports for Q2, Q1 and 2018.
Taiwan's strong mid-year growth
Most of the largest mobile games territories experienced respectable single digit growth, with the exception of Taiwan which saw 15% quarter on quarter growth. This was spearheaded by Google Play spend, growing by 21% in Q3.
Pokémon GO still going strong
As a result of its strong August performance, Pokémon GO saw growth of $41m or 68% QoQ in the USA market - the most lucrative territory for the title. The success of Pokémon GO – alongside a more modest increase in the net revenue generated from Roblox - was also reflected in the marginal growth shown in other Western territories, such as the UK, Germany and France.
Battle Royale titles facing war of attrition
Following its strongest quarter in Q2, the mobile battle royale segment – when excluding China-only Game for Peace - is showing the first signs of flattening. Both Fortnite and Knives Out declined by -26% and -16% respectively, whilst PUBG Mobile saw only marginal growth of 3%.
Mobile tournaments subhead
Mobile tournaments are closing the gap on mainstream esports by encouraging consumer engagement and spend. Many of the top-performing mobile games have a thriving esports strategy, such as Tencent's Honor of Kings and PUBG Mobile, Supercell's Clash Royale and Garena'sGarena Free Fire. These have a huge following in South America and Southeast Asia where there's a strong correlation between revenue and esports participation.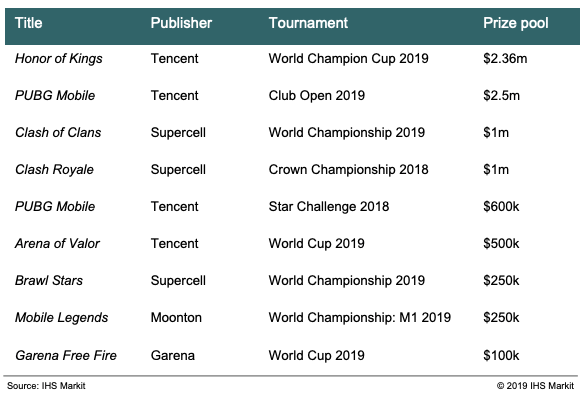 In the rest of the report we look at Vietnam which is establishing itself as a hub for tech start-ups, and whilst Tencent focuses on building audiences in these territories, NetEase is growing its international business in Japan.